Courtney at Swimming Into Second is having a fabulous linky party and I thought I would join in.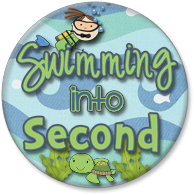 The best end of the year gift I ever received was from the last room mom I had (which was years ago). It was very similar to the one pictured. I got a awesome tote bag, sunscreen, flip flops, a beach towel and a gift certificate to Barnes and Noble.
Source: http://junkintheirtrunk.blogspot.com
I have made Smore Baskets like the one pictured for my volunteers (I haven't had to many of those lately either). These are super easy to make and not to hard on the wallet.
Source: http://oneelevenalmondtree.com
This year I plan to give my students a cute water bottle with some awesome kool-aid. I would love to add a book to it.